Manhattan's largest hotel operator has secured control of one of the most prominent sites on Shoreditch High Street, E1, as a foothold from which to build a 20-hotel London portfolio.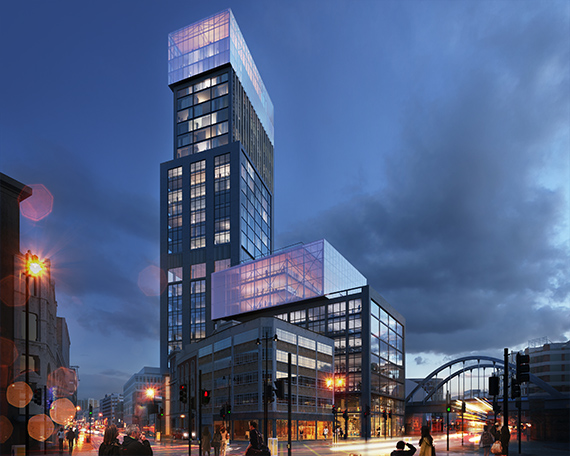 Highgate Holdings is shortly to submit plans for a 300,000 sq ft mixed-use project at 201-207 Shoreditch High Street and 1 Fairchild Street, including a tower of up to 30 storeys (pictured). The scheme is expected to have a gross development value of more than £300m.
At the heart of the scheme will be a new 200-bedroom luxury hotel. It will also include 100,000 sq ft of offices, community retail and leisure space, a sky lounge and a ground-floor market, as well as extensive public realm improvements.
The site, adjacent to Shoreditch High Street train station, is currently occupied by Majestic Wine Warehouse and the Chariots sauna. Forming one of the corners of the Shoreditch Triangle, it is owned by family property company Folgate Estates.
With the terms of the deal yet to be finalised, Highgate is expected to make a minimal up-front payment for its stake in the site, forming a profit-sharing joint venture with Folgate.
Highgate is due to submit plans for the Shoreditch site in the next four weeks, with construction earmarked for the end of 2016 and an opening date towards the end of 2018.
The company has also instructed BC Retail to secure sites for a 20-hotel London portfolio that could cover as much as 8m sq ft. Read more…
Uncategorized